Here and Now is Where Yoga Begins.
Virtual Classes Now Available!
Now is the time to explore the practice and yoga and learn how it can benefit your health and well being. Rhonda's Everybody's Yoga is just that: Yoga for Every Body. It doesn't matter where you are today, but where you can be tomorrow by adding yoga into your life.
Yogi Rhonda offers classes to all students, ranging from tots to seniors, making yoga available to all ages, genders and races. Classes are designed by applying the concept of "Honoring the Body." Each student is encouraged to come to the mat where they are at in their practice. By applying this concept, beginners and advanced students can perform at their own level in most group classes. Instructions offer both modifications and advanced moves thus creating a strong, safe, well-rounded and accessible practice. Keep in mind – there is no competition in yoga.
Yogi Rhonda teaches a combination of traditional styles: Integral, Hatha, and Vinyasa, with a hint of kundalini and restorative. These traditional styles of yoga incorporate Asana (poses or postures,) Pranayana (regulated breathing,) and meditation (Dhana & Dhyana) to create an atmosphere that balances the mind, body and spirit.
Private and corporate classes are also available.
Please call 517-439-9357 for more information.

Gift Certificates are Available!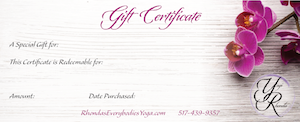 Testimonials
Yogi Rhonda has made learning yoga an amazing experience. Her knowledge of yoga and sharing about how it effects the body is so helpful. The Lovely Chubby Yoga class has been a great opportunity to learn yoga and join in a group that makes me feel comfortable. Yogi Rhonda is so supportive in helping people reach their goals. I am so thankful to have her in my life!

I turned to yoga when I injured my back. Yogi Rhonda was excellent in teaching me how to modify the poses until I regained my strength and flexibility. By continuing my practice with Yogi Rhonda, I keep my back pain at a minimum and continue to strengthen my entire body.

Rhonda is a wonderful teacher. Inspiring and very versatile. My son has special physical needs and she helped him formulate a home workout and meditation plan. I attend her Hudson yoga class and would recommend her to anyone at any level interested in attending a yoga class.

I had been sick for 8 years prior to joining Yogi Rhonda's class. I had lost most of my muscle mass and needed to do something to get stronger. My massage therapist suggested yoga. I had never been but my wife had been trying to get me to go for a long time. I have been going to Rhonda's class now for 2 years and I have gained muscles and flexibility. She is very helpful showing the class how to do the many poses and telling us what parts of the body they help. Thanks Yogi Rhonda!

Yogi Rhonda has helped me so much with her Yoga classes. I have arthritis- mainly in left knee- and when I attend class and practice at home I am pain free. Much better than pain relievers.

Yogi Rhonda is more than a "teacher"! She is a compassionate friend, encourager, and companion to so, so many on our journey to understanding and honoring our bodies. She tailors each class, pose, movement for each person's individual abilities and needs. A week without Yogi Rhonda is a week without sunshine! She is sunshine on even the grayest of winter days! Namaste!

I started yoga at the Dexter Wellness Center in December. I had never done yoga before. When Rhonda walked in, she greeted us and made me feel instantly welcome. She spoke in such a soothing voice and instructed us into our poses. She offered alternate poses for those of us that were just beginning. She guided us into full body stretching, reminding us to breathe. Almost an hour later it was time to relax the body, congratulate it for taking this personal time for ourselves. As she spoke and guided us into full relaxation, I actually did feel relaxed and centered. At the end of the class I thanked her and have come 2 times a week to her class since that wonderful introduction. She is my Yogi, and we love her class. Thank you Rhonda for opening a whole new experience for me.

Simply the best- I was a bit apprehensive at first- but thought it would be good exercise for my wife's up coming hip replacement so I went to support her- I found after just a few weeks of going once a week- better balance, more core strength and less back pain, my wife is now better prepared for surgery! I will continue to go while she is in recovery and then my wife and I will probably become lifetime yoga followers

Yoga class with Rhonda is a highlight of my week! She's knowledgeable about body alignment to keep you safe and get the most out of the poses. She sequences the class so that you can challenge yourself with a new pose, while also offering modifications for those with physical limitations. Rhonda is open to questions and suggestions for trying new things in class. Thanks for being a resource to small-town Hudson! 🙂