Don't let the stress of the holidays overwhelm you. Take time out for you this December with Yogi Rhonda's Mindful Meditation workshop.
In this afternoon workshop, Rhonda will guide you through a gentle, stress relieving yoga routine with guided movements designed to relax your body.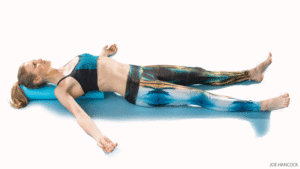 You will also be treated to a silent meditation that can help settle your mind and regain your much needed focus during this busy holiday season.
To wrap up the session, Rhonda will guide you through a deep yoga rest and relaxation practice called yoga nidra.
There are two sessions to fit into your busy holiday schedule, one in Hudson and one in Jackson. No need to pre-register. Just show up at one of the sessions listed below.
The registration fee is by donation only, which will go toward the cancer families that Rhonda has adopted for the holidays.
Please bring your cash or check donation, made out to Rhonda Carrier, a small throw blanket, and a cushion or pillow. Wear light, comfy clothing and be sure to eat light before the session.
Choose your session:
Sunday, December 10
1:00-3:00pm
Kim's Wellness in Hudson MI (click for Google Map)
Sunday, December 17
3:00-5:00pm
Essential Energies in Jackson MI (click for Google Map)
A gift of relaxation…just for you! We hope to see you there!